FOREST BATHING IN holland
A DEEPLY RELAXING EXPERIENCE
FOREST BATHING IN THE NETHERLANDS: A DEEPLY RELAXING EXPERIENCE IN THESE EXITING TIMES
Forest Bathing Nederland creates extraordinary and meaningful experiences in nature. Where you can feel you are part of the natural world, that breathes, is alive, and where you are at home. We do that on several locations in the Netherlands. 
Forest Bathing can give you a deep sense of relaxation. Something that we deeply need in our hectic lives. Especially now, where so many people are struggling with feelings of insecurity, fatigue and stress.  
"Forest Bathing brings me into the here and now … It makes me feel being part of a larger whole. Being in tune with life. Love it!"
(Susan)
FOREST BATHING ALLOWS YOU TO RECONNECT WITH THE NATURAL WORLD
Forest Bathing Nederland creates opportunities where participants can deeply relax, reconnect and reflect on their personal relationship with the natural world.
We do this in the Amsterdam, Nijmegen, and Breda area, the dunes of Noord-Holland, the Veluwe, and other locations in the Netherlands. Have a look at our program for an actual summary.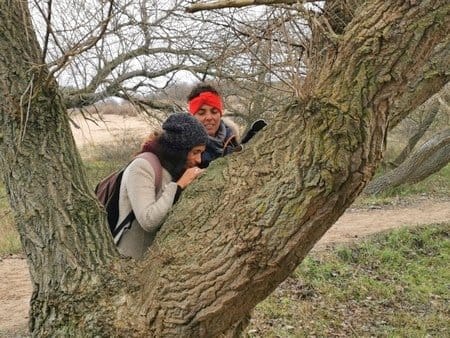 FOREST BATHING IN THE MOST BEAUTIFUL SITES IN THE NETHERLANDS
You don't have to travel far to discover the benefit of a forest bathing walk. We organize workshops in several beautiful locations around the country. And we regularly add new ones to our program.
And if you have something special in mind, please contact us. We're quit sure we can make you an offer that fits your needs.
LET GO - SLOW DOWN - RECONNECT
You probably know the relaxed and merrily feeling after a walk in nature. During a forest bathing walk that feeling is noticeably enhanced through mindfulness-based practices.
You are invited to let go of your daily worries. To slow down and perceive more intensely. And you are going to feel your connection to the living Earth very directly and personally.
Martin Thomas, a certified guide, will accompany you. He supports you in experiencing a forest, dune or park in surprising new ways.